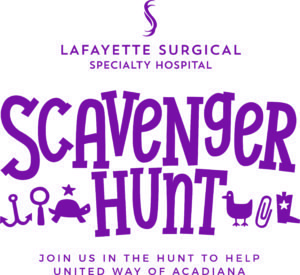 The Scavenger Hunt, sponsored by Lafayette Surgical Specialty Hospital, is a community-wide event to help raise money for United Way of Acadiana. Local companies are invited to participate in this fun-filled event by forming a team of employees to compete in the game. (It also makes for a great team-building exercise!) This isn't the Scavenger Hunt from your childhood; it's a big-time, sometimes silly, sometimes serious affair that is not to be missed! So get ready to find things like comic books from the '60s, gorilla masks, Donny Osmond albums and many other hard-to-find, fun items.
For seven years, Lafayette Surgical Specialty Hospital has done an annual in-house Scavenger Hunt in which each department competes against the others in a race to see who can gather the most items on the list. After enormous success among the staff, they decided to open it to the public and create lasting change in the community by donating proceeds to United Way of Acadiana.
WHEN: The Scavenger Hunt list will be distributed via e-mail at 8 a.m. Sept 1st. Items will be dropped off at the Comeaux Recreation Center (411 W Bluebird Dr., Lafayette, LA 70508) on Sept. 4. That gives you three days and three nights to locate the items!
COST: $400 per team
JUDGING: Each item on the list will be assigned a varying point value.The team with the most points will be declared the winner.
WINNERS: On Sept. 8, we will pay a surprise visit to the 1st, 2nd and 3rd place teams' office to personally present them with their trophy. In addition, we will choose winners in a variety of smaller categories based upon individual items on the list. (You'll find out what those are on the day the Hunt starts!) Once all winners have been notified, we will post a list online for everyone to see.
QUESTIONS: Contact Tim Howat at 337.769.4180 or lsshscavengerhunt@gmail.com.