LSSH Wins Prestigious Award from United Way – Wednesday, February 19, 2014
The LSSH team is proud to give back to the Acadiana community. United Way has been a long-time recipient of donor dollars and volunteer time from our employees. Each year we host an employee giving campaign which includes a complementary corporate donation. For the past 3 years the hospital has been a Corporate Cornerstone Partner leading the way for giving in our community.
Our employees love to volunteer for United Way and have been active in several programs over the years namely the United Way Day of Action, Stuff the Bus, and internal fundraising events. We are excited to be recognized as the 2013 TEAM UNITED recipient and look forward to continuing our support for United Way in order to impact our community in a meaningful way.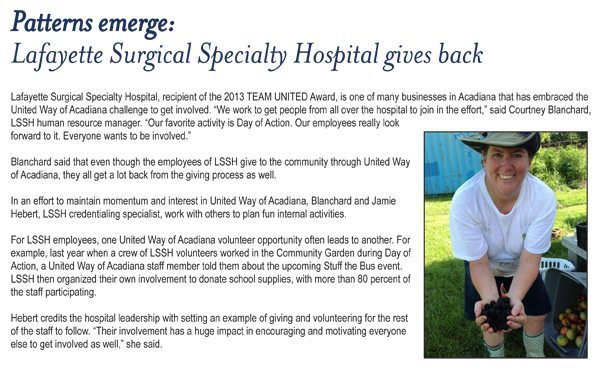 Click here to view the full 2013 United Way Annual Report