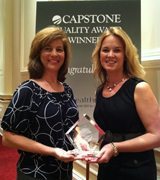 LSSH Wins Capstone Quality Award – Monday, May 7, 2012
Lafayette Surgical Specialty Hospital has received a 2011 Louisiana Hospital Capstone Quality Award, presented by eQHealth Solutions, the Medicare Quality Improvement Organization for Louisiana. The award was announced at the 2012 Louisiana Medicare Quality Summit & Awards hosted by eQHealth Solutions in Baton Rouge on May 3. Lafayette Surgical Specialty Hospital was presented the award for improving the quality of health care for our patients in the clinical area of surgical care.
eQHealth Solutions established the award to recognize Louisiana hospitals that successfully implement quality initiatives directed toward improving patient care in the hospital setting, specifically in the areas of: Acute Myocardial Infarction, Heart Failure, Pneumonia, and Surgical Care. These topics have been designated as national health care priorities by the Centers for Medicare & Medicaid Services.
The Hospital Capstone Quality Awards are based on select criteria and measured improvements in the specified clinical areas. There were 24 hospitals in the state that received the 2011 Louisiana Hospital Capstone Quality Award. For more information about the 2011 Hospital Capstone Quality Awards, please visithttp://louisianaqio.eqhs.org/ or www.lafayettesurgical.com.
Our Success Story:
Doctors, nurses and administrators at Lafayette Surgical Specialty Hospital (LSSH) can claim equal pride in a one-year initiative that has dramatically decreased the likelihood of surgical infections. More than 500,000 Americans are diagnosed with surgical site infections annually, which can cause complications, prolong recovery and increase the costs of care.
"The accomplishment stemmed from our participation in a national surgical care improvement project (SCIP) sponsored by the Centers for Medicare & Medicaid Services," said CEO Buffy Domingue. LSSH has participated in the SCIP project since opening in 2004 in collaboration with eQHealth Solutions, the Medicare Quality Improvement Organization for Louisiana. Work began when infection preventionist Charlotte Dupuis, VP of Quality Management & Compliance for LSSH, reviewed the hospital's surgical wound infection and SCIP compliance rates with Domingue, and Patient Care Unit Clinical Manager, Ruth Sonnier. From this review, Sonnier took the lead on the project which focused on reducing infection though appropriate antibiotic selection. Results were gathered through collection and analysis of the SCIP data monthly.
The project occurred over a one-year period (January 2011-December 2011). LSSH's goal was to achieve a 99% compliance rate with appropriate antibiotic selection for orthopedic and neurosurgery cases. Using a baseline of 87%, calculated in January, LSSH reached the stated goal within only five months.
The project team started by performing one-on-one reviews of appropriate antibiotics selections by physician for each specialty. Once that information was obtained, Sonnier collaborated with physicians to review their specific data and revise all physician order sets to include only the specific antibiotics recommended for each procedure. "Improvement was instant once we implemented the new order sets, it was a great feeling of accomplishment to see success immediately through such a small change," said project manager Ruth Sonnier.
After this was implemented, a few obstacles presented themselves and the LSSH team tackled each one. The first was the selection of appropriate antibiotic when the patient presented an allergy. In these situations, each case was reviewed with the physician along with evidence-based literature regarding antibiotic recommendations. Data was shared with physicians and staff by posting compliance results on bulletin boards in all departments and reporting through physician and staff newsletters. Another recurring issue was the result of one physician consistently prescribing Vancomycin to patients. To resolve this occurrence, the project manager presented literature on best practices and supporting studies in a one-on-one meeting with the physician and an expert physician educated physicians at an annual medical staff meeting. The last major barrier was in documentation requirements for physicians when using antibiotics other than those recommended by best practices. The team worked diligently to stress the importance of the documentation requirements to the physicians and gradually saw adoption of the process by the physicians. Throughout the project, barriers were overcome through concurrent review of physician orders, literature research followed by physician education, and the use of one contact person (the project manager) for all communication about the process.
The success of our program is demonstrated through the short time period in which our goal was obtained and the maintenance of that high standard within 1% variance throughout the year. We will continue to monitor this quality indicator, share data with physicians and staff along with review cases with variances with specific physicians. We also report individual physician compliance through ongoing periodic performance evaluations.