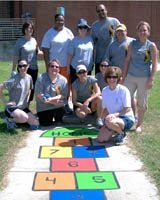 LSSH Takes Action for United Way – Tuesday, June 22, 2010
Lafayette, LA "Employees of Lafayette Surgical Specialty Hospital (LSSH) are gearing up for the 17th Annual Day of Action for United Way of Acadiana. The LSSH team of 15 volunteers will arrive at Brown Park early this Friday morning to build a Born Learning Trail for area children to learn as they play. This will be thesecond trail built by LSSH and the fifth Born Learning trail location in the Acadiana area.
Born Learning Trails are being built at parks, museums, libraries and corporate campuses around the country. These trails offer children interactive learning games that build pre-literacy skills critical to school readiness.* Additional Born Learning Trails in Acadiana are currently located at Thomas Park in Lafayette Parish, Park Williams in St. Martin Parish, Hensgens Park in Acadia, Gertie Huntsberry Park in Vermilion Parish, and another will be built on the Day of Action at Dorsey Donlon Park in Lafayette.
"Along with many other activities and charity events, the staff and physicians at LSSH continue to demonstrate good corporate citizenship through their active support of the Acadiana community," said Gary Keller, LSSH CEO.
"Lafayette Surgical Specialty Hospital understands the importance of volunteerism and it is because of their dedication and commitment and that of many other local companies that we are able to impact communities throughout Acadiana," said Keler Williams, United Way of Acadiana Volunteer Center Director. "Day of Action is an opportunity to partner with outstanding companies who share in our vision for a better Acadiana."
LSSH also is also hosting a "Stuff the Bus" school supply drive in association with the United Way community drive to help supply local students with the tools they need to succeed.
To find out more about the United Way Day of Action and/or the Stuff the Bus Community School Supply Drive log on to http://www.unitedwayofacadiana.org/
Lafayette Surgical Specialty Hospital, located at 1101 Kaliste Saloom Road, provides a multi-disciplinary approach to high quality surgical care and pain management. It was recently chosen as 2010 Hospital of the Year (100 beds or less) for the fourth consecutive year by the Louisiana Nurses Foundation.