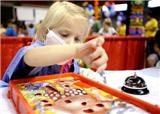 Come Play Operation with Us! – Saturday, August 20, 2011
Lafayette Surgical Specialty Hospital has participated in the Games of Acadiana for over 5 years and introduced the original OPERATION game to the arena last year in 2010. We will return again this year to suit you up and give you the tools to become a SUPER SURGEON!
What is Games of Acadiana?
Games of Acadiana is the signature fundraising event for Miles Perret Cancer Services. It is a family-centered event that brings competitors together for a good cause. The day includes more than 60 fun events including quarterback pass, hula hoop, homerun derby, dodgeball, and many more. The event is held at the Cajundome and Convention Center in Lafayette. Admission is free and open to the public.